Welcome to Hawkins Medical Clinic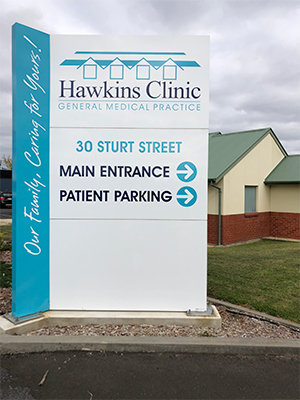 Hawkins Medical Clinic is the largest GP Practice in Mount Gambier. We currently have 22 GP's consulting from our rooms on Sturt Street and Pinehall Avenue. We are committed to providing quality life-long care to all of our patients. Hawkins Medical Clinic has a long history of providing training to senior medical students from Flinders University. Since 2016 we have been the only clinic in Mount Gambier to provide prevocational medical training. We remain committed to continuing this well into the future. Click here for more information about our teaching.
Our purpose built clinic on Sturt Street includes 20 consulting rooms, a separate suite of nursing treatment rooms, 3 reception areas and a general administrative and accounts office. Since opening in 1974 Hawkins has undergone several expansions in a bid to provide better facilities and more room for our patients. Our aim is to create and maintain the feel of a local family practice. For the convenience of our patients and to avoid long waiting lines when checking in for an appointment we have created 3 different reception areas. In 2018 we opened an additional branch clinic on Pinehall Avenue which has 9 consulting rooms and 2 nurse treatment rooms. We currently have a dietician and ENT consulting at Pinehall, we anticipate more specialists will consult from Pinehall in time.
Our GP's have a wide range of special medical interests including:
Paediatrics
Geriatrics
Aged Care
Women and Men's Health
Emergency Medicine
Mental Health
Pain Management
Pregnancy and Birth
Chronic Disease Management
Work Cover
Skin Cancer Medicine
Adolescent and Sexual Health
You can find more information about the many services we offer here. Some of our services include a bulk billed weekday walk in clinic for children under 5, Skin Check Clinics, Cervical Screening Tests (Pap Smear Clinics), Chronic Disease Management, Audiology testing, Spirometry, ECG's, Immunisation Clinics, Flu Clinics, Medicals, Minor Procedures and INR Clinics.
For the convenience of our patients we have an Australian Clinical Labs (formerly Healthscope) Pathology collection centre on sites.
Useful Links