News August 2016
NEW Walk in Repeat Prescription Clinic
We have a new walk in repeat script clinic. We now provide an alternative to ordering your repeat scripts over the phone. Attend Monday -Friday between 8:15 and 8:45am for a repeat prescription only bulk billed consultation. No appointment necessary. Please note the patient requiring the script must be in attendance for these appointments.
Patients should be reviewed by their regular GP at least 6 monthly for some conditions. Please see one of our reception staff for more details.
What's on @ Hawkins
In late July we farewelled Dr Vim Selvaratnam who has moved closer to Adelaide. We now warmly welcome Dr Catherine McLeod who commenced in August her special medical interests are geriatrics. She has been working in the Mount Gambier hospital for the past 2 years and joins us in the position of Registrar.
You may have noticed some changes around the clinic lately. In May we had part of our roof replaced over the South Eastern side which tied in with upgrading Dr Mike Bruorton's room. More room upgrades will follow in the coming months.
The hallway wall to the sister's area now has an amazing picture of the blue lake installed. It is very spectacular- the picture was taken by Ockert Le Roux and Hyland Fox did the installation. We are delighted to be able to showcase the sites we have to offer here in Mount Gambier.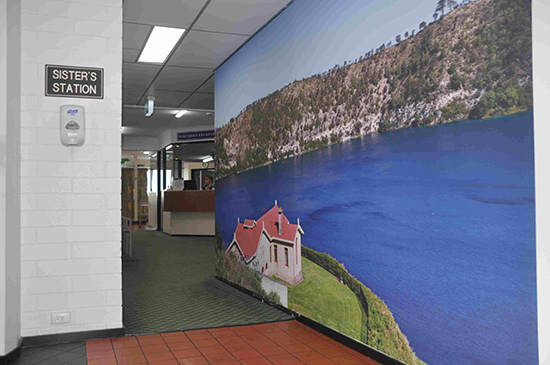 Same Day Duty Doctor Appointments
To improve on the day access for our patients we now offer same day duty appointments. All patients need to do is either book online the night before (see online appointments) or phone the clinic before 10am and ask for a same day appointment. We guarantee you will be seen that morning by one of our duty doctors. We still offer standard appointments for patients to book in to see their regular GP.
Don't forget we are on Facebook and Twitter so if you haven't already please connect with us on social media.